I'm sure you'll join me in this chest swelling moment of national achievement
(Unless you're Argentinian).
A Scottish brewer appears to have torpedoed a German rival's claim to the world's strongest beer, by bottling a "quadruple IPA" weighing in at a liver-bashing 41 per cent ABV.

Just weeks after German outfit Schorschbrau floated its 40 per cent Schorschbock, Aberdeenshire hop-botherer BrewDog has counter attacked with the provocatively-named Sink The Bismarck!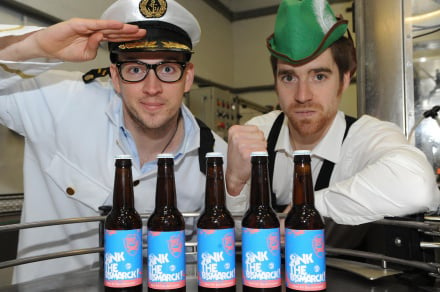 Well, at £40 for a 330ml bottle, we doubt anyone will be quaffing a Sink the Bismarck! like Saturday night fighting lager. If you like your beer "officially cranked up to 11" and have the stomach and wallet to handle it, Sink the Bismarck! is available only online, right here.
http://www.theregister.co.uk/2010/02/16 ... e_bismark/